Two Faces Comedy Series
"I leave it to my audience: If I had two faces,
would I be wearing this one?"
– Abraham Lincoln, 1858
---
Back by popular demand, and drawing inspiration from Abraham Lincoln's legendary humor and self-deprecation, President Lincoln's Cottage and The DC Improv are again partnering to present Two Faces Comedy, the first comedy series to transform Lincoln's living room into a comedy den. (Check out our feature in the DCist!)
This will be a series of three comedy nights, the first of which is September 18. Our September show will feature Porkchop Volcano, a favorite local short-term improv troupe.
NIGHT 1- Porkchop Volcano: September 18 @7:30PM **SOLD OUT**
This event is SOLD OUT.
Porkchop Volcano is a DC-area favorite short-term improv troupe. Taking suggestions from the audience makes every show unique and personal. In the words of DC Metro Theater Arts.com "with clearly defined characters and an uncanny chemistry within the group, Porkchop Volcano are a force to be reckoned with." They frequently perform corporate and private shows at the DC Improv, Brightbox Theater, and elsewhere. They've been lauded by the Washingtonian, DC Theatre Scene, and CBS DC as the show to watch.
A bit more about the comedians:
Anna Bethel splits her love equally between documentaries, pie and the state of Ohio. Yet, she still finds time to teach improv, but we don't hold that against her. For fun she forcibly walks other people's dogs against their will. Unfortunately, she has become addicted to stealing pens from bank lobbies and has built up an unwieldy collection of those little ball chains that were meant to keep said pens in place. She also loves to window shop at the Build-A-Bear Workshop.
Jon Milstein is creative and has a thirst for life and a thirst for wine. When not sailing, skiing or doing some other very white person activity, he can be found picking wild blackberries for his homemade jam. In his free time he ignores hunger, thirst, hygiene and loved ones all in the name of his beloved video games. Unfortunately, he had a run in with the law that one time and now he is on the lamb using a fake name. He also loves soup.
Conor O'Rourke is young at heart and young at age. He plays his own rules and is the typical "bad boy," quick to rebel against authority. He attended a Catholic high school, which is where he learned how to pick a lock, make out with hot chicks, smoke a cigarette and to impersonate a member of the clergy. Unfortunately, his business sense is sub-par and will sign any document put in front of him without reading it. He also loves peanut brittle.
Matt Stephan loves life and he loves his family. He has children and owns at least one minivan. But this responsibility does not get in the way of his whimsy. He never takes anything too seriously, unless it's a glass of good bourbon. At any given moment in the day he can be found watching cartoons from the 80s. Unfortunately, he is allergic to many things, including but not limited to: dust, mold, cats, dogs, ragweed, water, tree pollen, plant pollen, people pollen, the color tan and air. He also loves a Hickory Farms gift basket.
$5 per show
Cash Bar: Beer and wine available for $5 a drink at each show
This comedy series is recommended for adult audiences.
NIGHT 2- Tuesday, October 16 @7:30 PM
The theme for the October night is mental health, based on Lincoln's own dealings with depression. Each of the performers will incorporate that theme into their sets, however they choose.
A bit more about the comedians: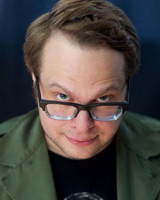 John F. O'Donnell (JFOD) is currently a 'Political Correspondent' on the comedy news television show 'Redacted Tonight w/ Lee Camp' on RT America. According to the Comedy Central Insider, "John F. O'Donnell is one of the more explosive comics in New York City. On stage, he's like a tightly capped liter of soda filled with lit fireworks." John has been featured in The New York Times, The LA Times and The Huffington Post, as well as being one of Comedy Central's Fresh Faces of Comedy.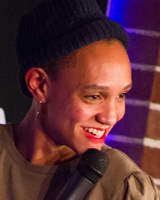 Brittany Carney is a stand-up comedian based in Washington, DC. She is a producer of the comedic lecture series Fale University, and a repeat guest comic on the variety satire Church Night DC. Other highlight experiences include 202 Comedy Festival, Nerdist's Competitive Erotic Fan Fiction Live, and Don't Block the Box.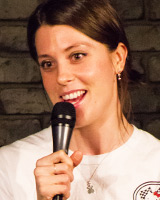 Pearl Rose is a Washington, DC-based comedian. Originally from Minnesota, Pearl is a regular host at DC comedy clubs, opening for national headliners such as Joe List, Carmen Lynch, and Jon Dore. Pearl has also performed at several comedy festivals.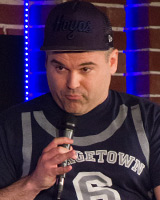 Petey Steele has been performing comedy in Washington, D.C. for the past 5 years. His material is based on his poor life choices in the realms of failed relationships, addiction, altruism, and attention to global affairs. His brash, honest comedic take on matters and his unflinching ability to self-deprecate have made him relatable to more audience members than he would like to now, and has made him a minted local and allowed him to open for Robert Kelly, Bobby Lee, Godfrey, and other internationally touring comics.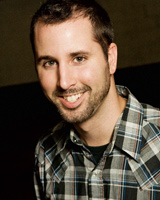 Matt Bergman has been seen on AXS TV "Gotham Comedy Live" and his debut cd "A Little Bit Balder Now" reached the top 15 on iTunes.
NIGHT 3- Wednesday, November 14
To get a jump on celebrating Mary Todd Lincoln's 200th birthday, November will be an all-female line-up!
A bit more about the comedians:
Katherine Jessup hopes you like her comedy, but it's cool if you don't. (You probably will though.) Commanding stages with the winsome charm of your slightly too honest best friend, her comedy's been described as sublime, profoundly relatable, and also available for birthday parties. She performs around the country and hosts a dope podcast (Advice! with Dave & Kat).
Originally from Richmond, Va., Chelsea Shorte discovered comedy as a way to stave off the boredom of being a beautiful twenty-something. Since first taking the stage as a stand-up and improviser, she has flourished and has further applied her creative drive to storytelling, podcasting, sketch writing, acting, and drag performance. Her stand up material ranges from riffs on the low bar for allyship to dating or even pythons in the Everglades. Check her out as a co-host of the Tagg Nation podcast, taggnation.com. Listen to some of her stories and stand up at https://soundcloud.com/chikachels
Naomi Karavani is a comedian and currently an on-camera correspondent and writer for the weekly comedy news show "Redacted Tonight" in Washington, D.C. She featured in a number of comedy festivals such as the Women in Comedy, Cape Fear Comedy Fest, the Underground Comedy Fest, the 202 Comedy Festival, What a Joke Fest, Laugh Your Asheville Off, Rogue Island Comedy Festival, Limestone, and the District of Comedy Festival. Before joining the Redacted team she worked as a high school history teacher in Brooklyn, New York for over five years.
Denise Taylor knew she wanted to be a comedian ever since her fourth-grade teacher called her a "ringleader" for distracting the class with jokes. At the age of 25, Denise's sharp joke-writing and commanding stage presence have led her to open for several national touring headliners, including Judah Friedlander, Chris Gethard, Kamau Bell, and Tom Rhodes. Denise also appears frequently on two of DC's most popular comedy shows: Fale University and The Time Machine Roast. Denise just graduated from law school, where teachers were still frustrated with her. She loves two things: satire and attention.
DISCLAIMER: the views and opinions expressed by the performers do not necessarily reflect those of President Lincoln's Cottage
This comedy series is recommended for adult audiences.
Sorry, no refunds.