Cottage Madness: Best Civil War Facial Hair
For the third year in a row, we're running our annual #CottageMadness tournament. Styled after the NCAA Basketball Tournament, this head-to-head bracket determines the winner of a prestigious honor. After Best Civil War Name in 2017, and Best Member of Lincoln's Cabinet in 2018, we're now proud to determine:
Best Civil War Facial Hair
This tournament features several big-time Civil War figures, such as Lincoln, Grant, and Stanton, with some lesser names who nonetheless were equally hirsute as their more famous counterparts. So who had the most impressive facial hair? The choice is up to you! Click the link to vote. Voting deadlines for each round, as well as profiles of all the entrants can be found below. Here is the full bracket: Civil War Facial Hair Bracket — Round 1.  
The champion will be announced in our March Proclamation newsletter, which is slated to be sent on Wednesday, March 27.
In addition, this year we're raffling off a "With Great Beard Comes Great Responsibility" t-shirt from our museum store. Simply enter your email address when you vote. We'll email the winner at the end of the tournament. (Want to skip the raffle and purchase one? Call 202-829-0436 ext 0.)
VOTE HERE: https://www.surveymonkey.com/r/8HYKS2M
(Profiles written by Museum Program Associate Johnny Di Lascio)
Deadlines for Voting
Round 1: Tuesday 3/19 at 11:59 PM
Quarterfinal: Thursday 3/21 at 11:59 PM
Semifinal: Sunday 3/24 at 11:59 PM
Championship: Tuesday 3/26 at 11:59 PM
Find out the winner: Sign up for our March Proclamation, which goes out Wednesday 3/27
Round 1 Matchups
1. Ambrose Burnside vs. 16. David Davis
Ambrose Burnside – What Civil War facial hair list is complete without Union General Ambrose Burnside? This Rhode Island industrialist made a name for himself at the First Battle of Bull Run, and with such a distinctive hairstyle, it's easy to see how Burnside had no problem getting noticed. In fact, when Lincoln first fired General McClellan, he turned to Burnside to help take the Union army to victory. After the disaster at The Crater, Burnside was relieved of command by Lt. General Grant. His war legacy may have been tarnished, but his facial hair was so distinctive that the term sideburns was coined in his honor.
David Davis – Beard ye! Beard ye! All rise for the only Supreme Court Justice to make our list. David Davis served as Abraham Lincoln's campaign manager in 1860, for which he was rewarded with an appointment to the United States Supreme Court. Davis remained on the bench until 1881, when he was elected to the U.S. Senate, representing Illinois. As Davis aged, his once thick brown neck beard settled into the neat white chin strap we see here. How does his facial hair measure up to the others on this list? You be the judge!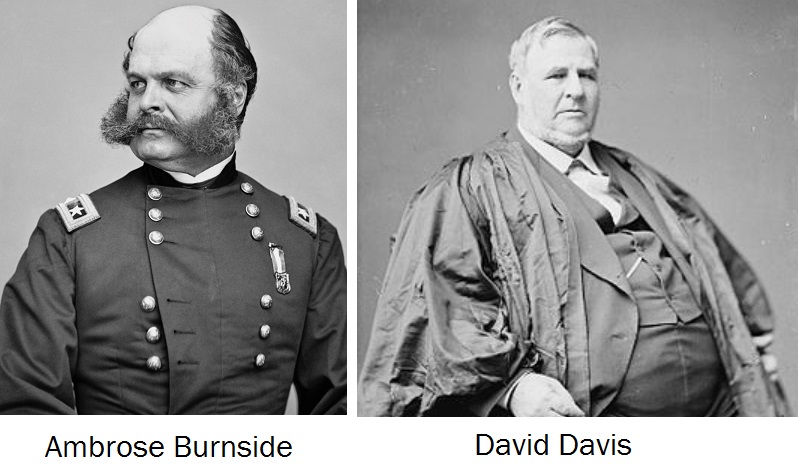 8. Charles Redmond Douglass vs. 9. Abraham Lincoln
Charles Redmond Douglass – When Charles's famous father Frederick called for the raising of black troops to join the Union War effort, he made no exception for his own children. In fact, Charles became the first African American to enlist in New York and was sent along with his brother Lewis to the elite Massachusetts 54th Regiment. While Frederick may have settled into his iconic thick, white beard in later life, Charles brandished fantastic mutton chops from an early age. Long after he was wounded at the Assault on Fort Wagner, Charles continued to be a trendsetter both in Civil Rights and in style.
Abraham Lincoln – As a rising star in Illinois politics, Lincoln's main distinguishing characteristic was his incredible height. At 6'4" it was no task for Lincoln to stick out in a crowd. When he was running for President in 1860, however, one little girl named Grace Bedell didn't think height was enough to give Lincoln that special X factor. In a letter to then candidate Lincoln, she told Lincoln she would get her family and friends to vote for him on the condition he "let [his] whiskers grow." Whether Lincoln's decision to grow whiskers was prompted by this letter or not, one thing's for sure: once Abe embraced the chin strap, he never looked back.
5. James Presley Ball vs. 12. Jubal Early
James Presley Ball – Born a free man in the slave society of Virginia, James Ball was a wunderkind right from the start. Getting his start as a daguerreotypist and photographer, Ball made his mark travelling the west and capturing many iconic images. When the camera was turned at Ball, however, his true beardness shines for all to see. As a successful businessman, Ball soon became active in the cause of abolition, and his photographs often depicted the struggles of African Americans during and after the Civil War. With his long, Rasputinesque beard, Ball is hoping for a clear path to victory.
Jubal Early – Perhaps the most notorious person who ever tried to visit the cottage, Confederate General Jubal Early is no slouch when it comes to facial hair. It seems those long nights raiding Maryland towns didn't leave a lot of time for shaving! In the summer of 1864, he launched an assault on Fort Stevens that brought him within a mile of Lincoln's country residence. When Lincoln came to visit the fort the next day, Early's forces were still attacking, exposing Lincoln to enemy fire. Early's army never made it to Lincoln's Cottage, which is happy news for those of us who work here today!
4. Edwin Stanton vs. 13. Horace Greeley
Edwin Stanton – Brandishing a long, lush beard with a powerful white streak down the middle, Secretary of War Edwin Stanton's beard is straight up Gandalfesque. He served in the cabinets of to three U.S. presidents, including Abraham Lincoln, who relied heavily on Stanton's organizational wizardry during the Civil War. Early photos of Stanton suggest a more conservative beard, perhaps a centimeter in length, which blossomed into its full bushiness as Stanton's star rose in the American political world. Stanton eventually came to blows with President Andrew Johnson, who fired the Secretary, triggering a long and bitter battle to impeach Johnson. As facial hair goes, though, Edwin is unimpeachable!
Horace Greeley – It's a beard? It's plane? No! It's New York Tribune editor Horace Greeley! While Greeley is more commonly known for his fiery rhetorical journalism, his true gift to the world is arguably his iconic neck hair. Protruding from under Greeley's collar like a feathery shirt collar, one wonders where exactly this amazing fluff is growing from. Greeley was one of the Civil War's most vocal journalists, and later he tried to unseat President Ulysses Grant in the 1872 election. But Americans stuck with Grant's more traditional beard style, rather than take a chance on Greeley's wily neck beard.
6. Alpheus Starkey Williams vs. 11. Ulysses S. Grant
Alpheus Starkey Williams – A great purveyor of mustache wax, General Alpheus Starkey Williams boasts both a distinguished military career and a unique facial hair style. He fought in most of the major engagements of the Civil War, often riding his industrious horse "Plug Ugly." His unique goatee certainly attracted a lot of attention, and after the war, the folks of Michigan's 1st District couldn't get enough of his unmistakable 'stache. They elevated the General to the U.S. Congress, where he served until his death inside the U.S Capitol in 1878. With a bizarre name and a bizarre look, Williams has a real chance at dominating this year's bracket.
Ulysses S. Grant – Since Lincoln's facial hair is technically classified as a chin strap, Grant has the distinction of being the first American president with a full beard. Long before he became the Savior of the Union, Grant was a clean shaven first lieutenant fighting in the Mexican War. Far from his happy new home, the recently married Grant exchanged passionate love letters with his bride Julia. In one such letter, Julia told her husband of a dream she had in which her fresh faced Ulysses appeared with a beautiful beard. Five months later, Grant wrote to a friend, "you would never recognize me… I have a beard more than four inches long and it is red," proving once and for all that dreams really do come true!
3. Rosewell Sabine Ripley vs. 14. William Harvey Carney
Rosewell Sabine Ripley – It's hard to imagine Confederate General Rosewell Ripley going anywhere without soldiers asking him, "Where did you get your beard wax?" With two thick tufts of hair on both sides coalescing into pointy spires on each end, General Ripley's whiskers are sure to make anyone do a double take. Born in Ohio, Ripley served on General Zachary Taylor's staff during the Mexican War, later settling in South Carolina. A proponent of "states' rights," Ripley joined the South Carolina secession movement and was eventually assigned to Lee's Army of Northern Virginia. Even as his star waned, Ripley continued to wax those whiskers til his final days.
William Harvey Carney – Sgt. William Harvey Carney boasts a neat mustache with lengthened chin strap, creating a sleek design that stands out in a time of rampant Santa beards. Born a slave in Norfolk, VA, Carney defiantly cast his chains aside and raced up the Underground Railroad to the Free North. As with many young African American men in the aftermath of the Emancipation Proclamation, William Carney joined the Union Army in 1863, enlisting in the 54th Massachusetts Regiment. Wounded three times at the Assault on Fort Wagner, Carney carried the American flag back and forth across enemy lines, never letting it touch the ground. A man simply doing his duty. A goatee simply making him look good.
7. Peter Cooper vs. 10. George Pickett
Peter Cooper – Wow! Just… wow! You may never have heard of New York industrialist and Antislavery politician Peter Cooper, but after you see his beard, you won't soon forget him. With such an inviting fluff draped around his neck, Cooper's wise face looks as though it rests on a fluffy white cloud. Considering that Cooper is credited with inventing the steam engine, it's hard to accuse him of having his head in the clouds. Cooper eventually founded New York's famous progressive institution The Cooper Union, which set the stage for Abraham Lincoln's most famous campaign speech. Cooper ran for president in 1876 on the Greenback Party ticket and though he was denied the nation's highest honor, with your votes, he may yet taste the sweet nectar (or neckhair) of victory.
George Pickett – When Robert Lee sent three divisions up Cemetery Ridge at the Battle of Gettysburg. he'd actually put General Longstreet in charge of the ill-fated attack. Somehow, in the aftermath of this bloody moment in one of the war's bloodiest battles, this heroic but doomed assault became known as Pickett's Charge. Perhaps when the Confederate press reported on this tragic battle scene, they found Pickett's long, wavy chin flap and hipster mustache made him imminently more photogenic than Longstreet. Pickett may not have been able to reach the summit of Cemetery Ridge, but with your votes, he could make it to the top of our list.
2. Gideon Welles vs. 15. William Hammond
Gideon Welles – When Gideon Welles became Secretary of the Navy, he found the department in a state much like an uncared for beard: total disarray. Before long, Welles trimmed the excess, creating a Naval force that was the envy of the world, much as his beard must have been the envy of Lincoln's cabinet. Welles' distinctive white fluff along with his brilliant management of United States sea power earned him the affectionate nickname "Father Neptune."
William A. Hammond – Is there a doctor in the house? Meet U.S. Surgeon General and facial hair aficionado William Hammond. Joining the Union war effort as a infantryman in 1861, Hammond gained recognition helping invent a new kind of ambulance wagon. By 1862, he was promoted to Brigadier General, and soon found himself America's 11th Surgeon General. As his career flowered, so did his thick, grizzly beard, but he soon came to blows with the administration and was removed in 1863. Hammond went on to found the American Neurological Association, but it doesn't take a brain surgeon to see why Hammond's beard made our list.